This page provides you with practical information about our practice. It includes descriptions of our office location, including a map and directions, hours, appointment scheduling, insurance acceptance and billing policies.
Purvis-Moyer Foot & Ankle Center
3301 Sunset Avenue
Rocky Mount, NC 28704
Phone: 252.443.7114
Fax: 252.443.7115
Office Hours

| | |
| --- | --- |
| Monday: | 8:00 AM - 4:30 PM |
| Tuesday: | 8:00 AM - 4:30 PM |
| Wednesday: | 8:00 AM - 4:30 PM |
| Thursday: | 8:00 AM - 4:30 PM |
| Friday: | 8:00 AM - 2:00 PM |
| Saturday: | Closed |
| Sunday: | Closed |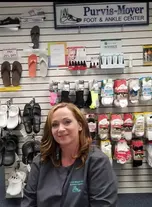 Insurance
Our office participates with most insurance companies. It is the patient's responsibility to provide a current insurance card at each visit along with any medications. It is also the patient's responsibility to obtain a referral before their scheduled appointment if required by their insurance carrier. Failure to do so will result in being a self-pay account or rescheduling appointment until the patient has all of the required information. Copays and/or any unsatisfied deductibles are due at the time services are rendered. We accept cash, check, MasterCard, Visa and Discover. EFFECTIVE 7-1-10
Our office will no longer participate with First Health, Affordable, CCN, Health Advantage Network.
If seen, your benefits will be processed as out of network.
Appointments
If for any reason you cannot keep a scheduled appointment or will be delayed, please call us as soon as possible. In order for our office to remain on schedule, you may have to reschedule your appointment if you are more than 15 minutes late. Patients will be billed a fee of $50 for appointments not kept or canceled within 24 hours. Missed appointments or cancellations less than 72 hours for Vascular Studies will incur a $100 fee.
Our Office
As licensed podiatrists in Rocky Mount, NC we believe our patients deserve to have the information needed to make good choices about their foot and ankle care. Our goal is to educate each patient and begin a relevant treatment program with the highest quality of care available. Whatever your foot and ankle trouble, we'll work together to find the answers that will comfort you and bring you relief.
We take pride in providing you with a comfortable office experience. Our qualified staff is friendly and will ensure a pleasant visit. Our office is conveniently located in Rocky Mount, NC. Easily accessible from Roanoke Rapids, Tarboro, Greenville, Louisburg, Zebulon and Wilson by US 64 or I-95. We invite you to e-mail or call our office with any questions via the contact us on our Web site.
Prescription Refills
You will need to have your Pharmacy send an electronic email refill request. Please be aware that due to the amount of patients seen daily it may take 48 hours to respond to your request. By law, the prescribing physician must have an up-to-date medical record on file. If it has been longer than 60 days since your last visit you may be required to schedule an appointment. Please understand this policy helps us protect our patients and provide the highest level of care.
Records Request/Disability Forms
Any request for medical records and/or X-rays must be accompanied with a signed authorization to release information. Once the request has been received you must allow up to 7 days to complete. Payment for associated fee must accompany a request.
Medical Records, Disability Forms = $20.00
X-Ray copies = $10.00